For the past week, we have been staying at Maxwell's English Springer Spaniels in Unionville, Tennessee. We travelled to Maxwell's kennel once Lily Belle's progesterone level reached 5.1 on Tuesday, March 8th. Lilly Belle and Buttercup were bred Tuesday through Thursday. We will have to head back to St. Louis on Friday morning due to snow storms heading both to St. Louis, MO and Nashville, TN. We are hopeful that the breeding took.
We are planning to schedule the ultrasound for Lily on April 8th. At that point, we should have a confirmation of pregnancy. Assuming that Lily Belle is pregnant, we will plan the x-ray for May 3rd — day 56th. Were Lily Belle pregnant she could have the puppies from May 6th - May 8th — day 59 through day 61.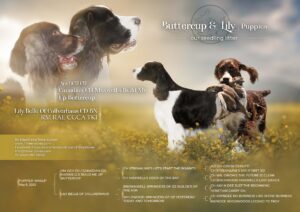 Am GCH CH / Canadian CH Maxwell's Build Me Up "Buttercup" x Three-Doves' "Lily" Belle of Collverhaus CD BN RM RAE CGCA TKI puppies should be healthy with a good temperament and beautiful. Show and performance homes will have preference. You submit an application on our Good Dog Page.