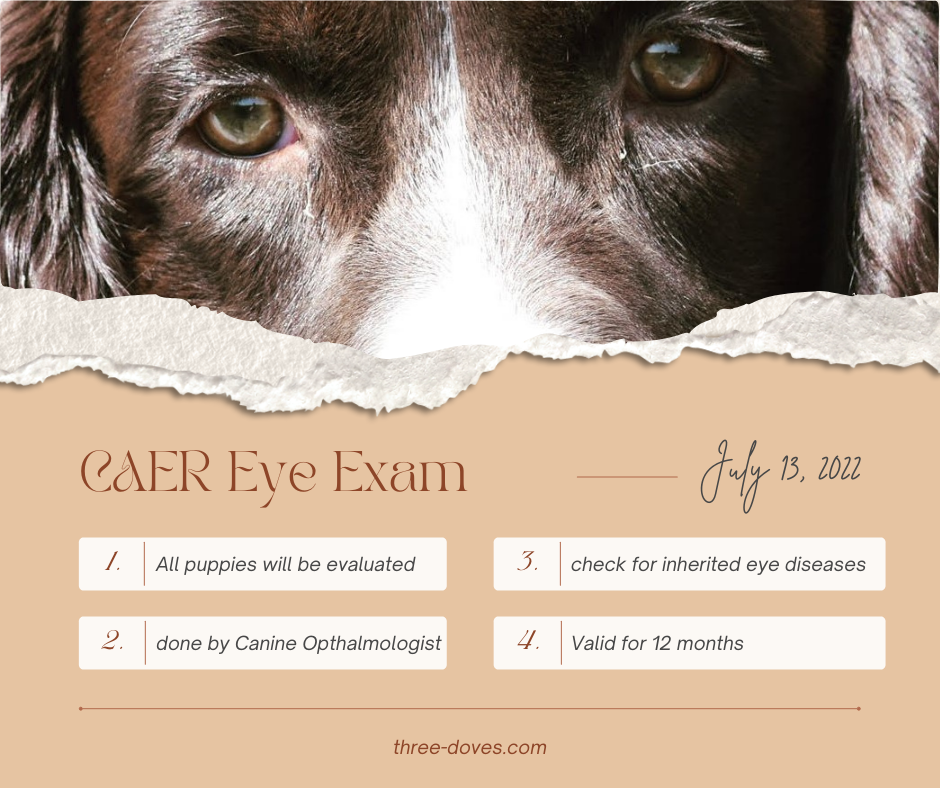 Now that the puppies all have their eyes open, its time to talk about eye health. Spaniels, as a class of dogs, are susceptible to many inherited eye diseases. As a good breeder, my goal is to work to improve the breed, and this means making sure that my puppies are not carrying any of these diseases. Both Buttercup and Lily have had eye exams and are free from any diseases at this time. On paper this breeding looks amazing, but we want to make sure of this, and do it by many different evaluations of the puppies.
One very important evaluation is by a canine ophthalmologist. This can be done after 6-8 weeks. We go to Dr. Johnson at Animal Eye Associates. Here is his website in case you'd like to read up on him. http://www.animaleyeassociatesstl.com/
Due to the 4th of July holiday, we were not able to get in to have the litter evaluated until July 13. An exam takes about 30-40 minutes, because the eyes need to be dilated. 5 pups are going to take a while. . .
OFA Eye Certification Registry Examinations are ophthalmic examinations, performed by an ACVO Diplomate, to assess dogs for the presence or absence of observable hereditary ocular disease. These examinations are a service for breeders or individual pet owners who need OFA certification. The examination is not a test for DNA markers for specific genetic issues.
Each pup will have their own test and paperwork. This paperwork is valid for 12 months. You can submit this to the OFA to get a registration number.
Puppies will be able to go to their homes following this visit. This will be the last evaluation they get before going to their new homes.
Here are some links in case you'd like to read up on the OFA Eye Exam:
https://www.ofa.org/diseases/eye-certification