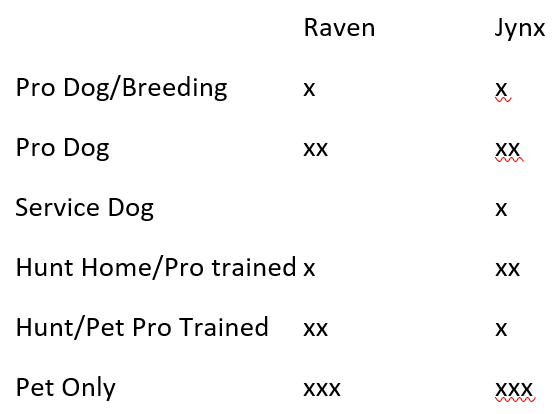 So I am on my last week with puppies. Due to weather and family situations, I kept a couple past 8 weeks. The pups are 9 weeks old now, and most have been in their homes 1-3 weeks. Time flies!
I wanted to look at the placements of my puppies, to evaluate what these breeding pairs created. All the puppies were temperament tested, and then placed in appropriate homes. I turned down a few placements because the situations did not fit the puppy. I did not want to have a situation where a puppy did not live up to expectations, or the puppy would be too much. The question always at the back of my mind is, should I repeat this combination, or should I seek a different sire and try for different results.
The types of homes for both litters was varied. This meant that some of the dogs were more suited for pets and some for professional handling and some were a mix.
Each litter produced one puppy that went to a professional dog trainer, to become a part of their program and potential breeding stock. This was a high compliment because it means other breeders think I did a good job, and that this genetic pairing was on target to produce dogs that improved the breed.
Two dogs from each litter were picked up by professional dog trainers to become their demo and competition dogs. This means that pro's outside of the hunting world thought that these pups have a lot of potential to do more than what their pedigree shows. They will be competing in all kinds of sports, which is great. They will also go on to be a key part of the professionals career to help them demonstrate concepts to clients. This means the pups have a good temperament and stamina to work all day along side their owners.
1 dog from Jynx went on to be a service dog. This means Jynx threw a pup with sensitivity. I have heard back from the family and it is working out great.
I had a few homes take pups that were primarily going to be hunting or hunt test dogs. These pups were selected carefully, because the dog will need to have talent and stamina to work hard. These pups will be going to professional dog trainers, training many months (once they are older) to be serious workers. Raven had one and Jynx had two pups go to this kind of home.
I had some families contact me who wanted a hunting dog but also a pet. This can be more challenging- the dog needs to be able to shift gears as required. Pups needed to be able to be gentle and loving with kids, but also be able to handle going for professional training. Raven had two of these and Jynx had one.
The last type of home we placed puppies in were pet homes. Both these pairings have excellent pedigrees and produced some very intense and high prey drive pups. The last thing I wanted to do was place a high drive pup in a pet home. This would be a recipe for disaster. Pups going to pet homes were carefully selected. Each litter produced three. Some will be more active than others, but being a loving pet and enjoying pampering was their most important job. I'm jealous of the pet homes these pups went to! This doesn't mean the pups don't have jobs! One is going to work and being an office pet. One slips out everyday to help get the mail. A couple are active companions to busy children.
Overall I am pleased with the breakdowns on these two litters. I think they had a very nice distribution and variety in their capabilities. So far I have only heard great reports back from the families- which makes me very happy indeed.