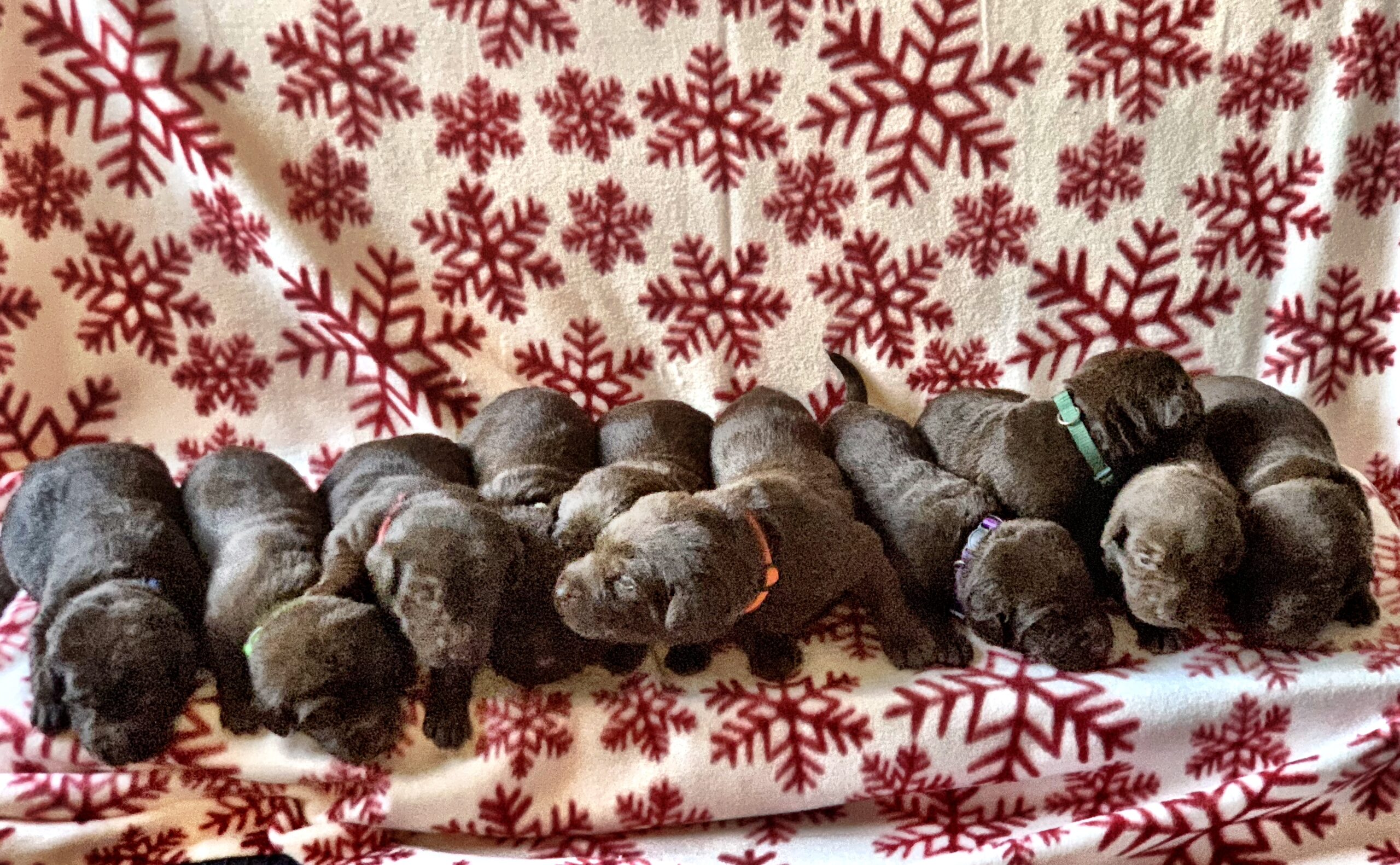 Happy 2 week Birthday to our all chocolate Grease Litter! Micah x Jynx puppies are thriving! These guys are really amazing me.
I did my weigh in this morning and these pups are getting big. Everyone is close to or over 2 1/2lbs and 4 are over 3lbs. The biggest, Zuko (orange) is almost 4lbs. As a reference, the Levi x Raven Eclipse litter was just a little over 2lbs with the biggest at 2 1/2lbs by this point.
These guys have also hit a few milestones worth mentioning. I had puppies going off into every direction. Since their eyes are just opening, we are keeping the room dim so that the light does not hurt their developing eyes. Puppies are also eliminating on their own, which means clean up in the morning is getting more intense. I've been spoiled by Jynx- she is super clean, so I've had very little to do until now. Just a quick sanitize in the morning. As you can imagine, I'm doing a bit more scrubbing now!
We will start offering some goats milk today, preparing for later this week when we start to offer puppy mush. We will also start introducing some tactile items into the whelping box. This will give the puppies some enrichment and encourage their curiosity and exploration.
The best part of this stage is that each puppy will be getting individual attention. I have to admit, this has already been happening. I always cuddle one while watching TV at night, then switch pups on commercials. It's the perk of being a breeder. Now the pups will get more directed attention.
We are also going to start having visitors for our chocolates. Until now, they have been tucked away in their room when our other litter has had visitors. Now they'll get to share in everyone's attention too.